More and more players around the world are rather choosing to have their gaming experience online. That's why casinos are creating their content online. Mobile casinos are especially popular in this day and age. With them, you can enjoy your favorite games on the go, no matter where you are. Live gaming options provide an even better adventure — they will captivate all your attention, and the live casino will make you feel like you are in the very center of the action.
Although nothing can replace uniqueness of classic, top-rated land-based casinos, the online establishments are still rising on the market. If you prefer to play three-card poker or a dice game in the comfort of your own home, online casino is a right fit for you!
Like any other popular table game, craps, blackjack, and more are played a little differently online. You can still play for real money, that is a given. However, there are some distinctions which we will cover in this article.
Baccarat
Baccarat is a beloved and veteran casino game that has been around since the 19th century. It was so addictive and alluring that the French played it illegally for years — long before the casino gambling became legalized in 1907.
Baccarat is played between the player and the banker who are trying to achieve a hand equal to 9, or as close to that as possible. The banker is the person that supervises the game, deals with bets, and so on — just like a dealer in other casino games.
Accordingly, there are three possible situations that can play out — both player and banker can win, or there is a tie. The banker's moves depend on the player's hand, so keep that in mind. For example, if the player has the amount of cards between 0 and 5, he gets another card — the same is applied for the banker.
Furthermore, the cards are put in the boxes and turned face up after all the players were dealt in, this is to check who has the best hand. One more thing, if the cards have the value greater than the big nine, 10 points are deducted from your total. Therefore, you will have a single digit hand at any time.
Blackjack
This is a popular table game that often first comes to mind when thinking of the casino table games. The goal is quite simple — you need to achieve a hand that will amount to 21 or less. This game is popular for one other important reason, and that is because it has the best odds among the table games. The house edge is only 1 percent!
21 card game is quite simple to play. First, you will need to place your bets. After that, just push the "Deal" button so that you can receive your cards. Once you see what you're dealing with, you can choose if you want to "hit" (get another card), "stand" (keep the cards you already have), "double" (add another bet of the same amount as the previous one) or "split" (divide your hand into two sets). The winner is the player that has cards closest to 21.
Craps
Craps is one of the most exciting casino games out there. If you ever find yourself in a casino, minding your business in front of a slot or a poker table, and you see a group of people jumping up and down while the dice roll in the air — the chances are they're playing craps.
The goal of craps is simple — you need to roll a 7 or 11 on your first roll to win. If you roll 2,3, or 12 instead, it is not your lucky day. Additionally, many players fear of rolling two ones otherwise known as "snake eyes," which are considered to be highly superstitious.
When playing craps, you need to make a pass line bet, or rather a do not pass line bet, depending on if you are betting on the dice or against them. When you are playing online, the excitement is somewhat lowe since you don't have the chance to actually throw the dice. You just press the "roll the dice" button and watch the magic happen. Remember, if 7 or 11 are rolled, the pass line bet wins. If not, this outcome is called "craps", and the pass line bet has lost.
Roulette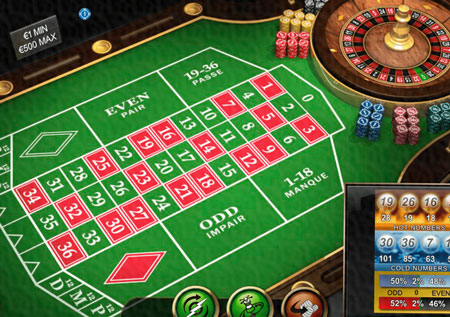 Roulette is a game based strictly on chance. There is no way to guess or calculate on which number the ball will land. Roulette was referred to many times in the popular culture, including the movie Casablanca — a classic hit in which this game is one of the initiators of the storyline. And in the famous German classic "Lola Rennt", Lola bets her last dime on Roulette, in order to save a life of a loved one. Though she kept betting on the same number over and over again, bear in mind that it is almost impossible to win this way in real life.
When playing Roulette online, you can get quite significant amounts of money. First, you will need to place the bet. They are usually limited by a casino, especially when it comes to games with high payouts, such as Roulette. Instead of watching the dealer drop the ball in the wheel to decide your fortune, in an online casino you will just need to press the "spin" button and wait for the results. If you win, you will get paid in the real money, of course.
Moreover, it couldn't hurt to keep in mind that the European Roulette gives you slightly better chances since the number 0 decreases the house edge. The American version has a single zero pocket and a double zero pocket (00). This increases the odds of the house and decreases yours.
Keeping Your Cool
Whichever table game you choose to play, in a classic or an online casino, you need to bear in mind that having a clear head is the most important thing. After you mastered all the rules, you will need to have a high concentration in order to choose your next move wisely. For most of these games, there aren't exact strategies you can apply in order to win. This goes for all the games of chance. You just need to spin that wheel or hope that the card you were dealt with is the right one. Aside from Blackjack, it requires some logic and thinking a few steps ahead, of course.
Summary
Online casinos are a great way to learn how to get around the games and choose the one that suits you the most. You can always try playing for fun at first until you get the hang of the rules. But once you start playing for real money, that's where the fun begins! Combining logic with good fortune, a clear mind, and laws of probability, you can acquire quite the amount of money when playing table games. You just need to know what works best for you — if it's a card game or rather the old and reliable dice. The choice is yours!
---